Overview
If you have bunions, taking care of them now can help you avoid more serious treatment later. A bunion is a bump that forms on the joint of the big toe when bone or tissue moves out of place and extends beyond the normal anatomy of the toe. Left untreated, bunions can cause debilitating pain and may require surgery to correct.
Causes
Although bunions tend to run in families, it is the foot type that is passed down-not the bunion. Parents who suffer from poor foot mechanics can pass their problematic foot type on to their children, who in turn are prone to developing bunions. The abnormal functioning caused by this faulty foot development can lead to pressure being exerted on and within the foot, often resulting in bone and joint deformities such as bunions and hammertoes.
Symptoms
The main problem is usually the pressure of the shoe over the bony prominence, which causes discomfort or pain. Sometimes the skin over the lump becomes red, blistered or infected. The foot may become so broad that it is difficult to get wide enough shoes. The big toe sometimes tilts over so much that it rubs on the second toe, or pushes it up out of place so it presses on the shoe. Also, the big toe does not work as well with a bunion, and the other toes have to take more of the weight of the body as you walk. This can cause pain under the ball of the foot ("metatarsalgia"). Sometimes arthritis develops in the deformed joint, causing pain in the joint.
Diagnosis
People with bunions may be concerned about the changing appearance of their feet, but it is usually the pain caused by the condition that leads them to consult their doctor. The doctor will evaluate any symptoms experienced and examine the affected foot for joint enlargement, tissue swelling and/or tenderness. They will also assess any risk factors for the condition and will ask about family history. An x-ray of the foot is usually recommended so that the alignment of big toe joint can be assessed. This would also allow any other conditions that may be affecting the joint, such as arthritis, to be seen.
Non Surgical Treatment
Bunions can be treated conservatively (without surgery) using simple measures such as well-fitting shoes, orthoses simple painkillers and padding. Physiotherapy can help improve associated muscle imbalances. Such measures will not correct or even stop the deformity but they can help with symptoms. When non-surgical treatments prove insufficient, surgery can relieve your pain, correct any related foot deformity and help you resume your normal activities.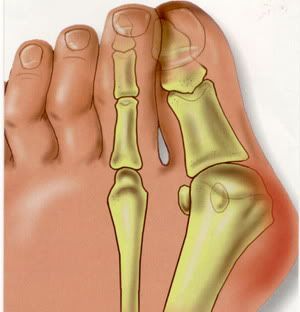 Surgical Treatment
Surgery may be considered if your symptoms are severe and don't respond to non-surgical treatments. The type of surgery will depend on the level of deformity, the severity of your symptoms, your age, and any other associated medical conditions.
Prevention
The best way to reduce your chances of developing bunions is to wear shoes that fit properly. Shoes that are too tight or have high heels can force your toes together. Bunions are rare in populations that don?t wear shoes. Make sure your shoes are the correct size and that there's enough room to move your toes freely. It's best to avoid wearing shoes with high heels or pointed toes.
Overview
The most common arch problem is the flat foot. This sometimes starts in childhood or may gradually develop in adulthood. In most cases the flat foot is related to a tight calf. The tightness of the calf forces the foot to overpronate (the inside of the foot rolls inwards) and the arch to break down and collapse. The arch collapse leads to abnormal stress on the plantar fascia leading to heel pain, as well as to the main medial tendon (the posterior tibial tendon), leading to tendonitis and even tears of the tendon. The other common symptom in severe flat feet is pain on the outside of the foot as well as calf and Achilles symptoms.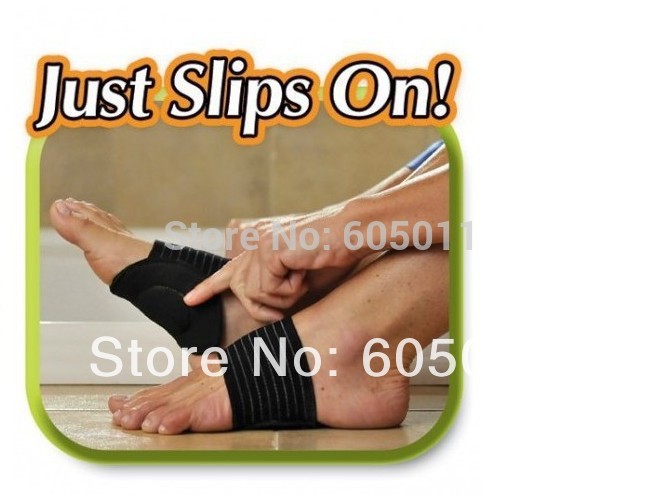 Causes
Conditions that affect the nervous system (brain and spinal cord) can also cause the arches to fall. Over time, the muscles gradually become stiffer and weaker and lose their flexibility. Conditions where this can occur include cerebral palsy, spina bifida and muscular dystrophy. Adult-acquired flat feet often affect women over 40 years of age. It often goes undiagnosed and develops when the tendon that supports the foot arch gradually stretches over time. It's not fully understood what causes the tendon to become stretched, but some experts believe that wearing high heels and standing or walking for long periods may play a part. Obesity, high blood pressure (hypertension) and diabetes are all risk factors.
Symptoms
The most common symptoms of plantar fasciitis include pain on the bottom of the foot near the heel, pain with the first few steps after getting out of bed in the morning, or after a long period of rest, such as after a long car ride. The pain subsides after a few minutes of walking. Greater pain after (not during) exercise or activity.
Diagnosis
The doctor will examine your feet for foot flexibility and range of motion and feel for any tenderness or bony abnormalities. Depending on the results of this physical examination, foot X-rays may be recommended. X-rays are always performed in a young child with rigid flatfeet and in an adult with acquired flatfeet due to trauma.
Non Surgical Treatment
One of the most successful, and practical treatments recommended by podiatrists are orthotic devices, sometimes referred to as arch supports. Orthotics take various forms and are constructed of various materials, usually best recommended by your doctor to address the severity of your problem. All orthotic devices serve to improve foot function and minimize stress forces that could ultimately arch pain.
Surgical Treatment
In rare cases, surgery may be needed if a child has flat feet caused by a problem they're born with (a congenital abnormality). The foot may need to be straightened or the bones may need to be separated if they're fused together. Painkillers and insoles are the first treatment options for flat feet that are caused by a joint problem, such as arthritis or a torn tendon. However, surgery may be recommended if the injury or condition is severely affecting your feet. Where flat feet are caused by a condition that affects the nervous system, special shoes, insoles, or supportive foot or leg braces may be needed. Again, in severe cases, an operation may be needed to straighten the feet.
Prevention
So how do you prevent plantar fasciitis? Factors which can be controlled include training progression, environmental factors, shoes, and strength and flexibility exercises. A useful guideline for a safe training progression is ?the 10% rule.? Limit increases in distance or intensity to 10% a week. For example, if a person is running 60 minutes at a session, 4 times a week, or 240 minutes, she or he can probably increase the running time to 264 minutes (240 + 10%), the following week if all else remains the same. Terrain is also an important factor in training. Running 30 minutes on hills is very different from running 30 minutes on flat surfaces in terms of the forces on the legs and feet. Work up gradually to increase your running time on hills. Also lean forward when running downhill. If you run on a banked or crowned surface, vary the direction you run in so you alternate which leg is higher and which leg is lower on the bank. If you know concrete or asphalt is causing you discomfort, try running on a cinder or composite track. If you are going on vacation and are not used to running on sand or grass, don?t spend your whole vacation doing it.